"Intimate Partner Violence and Armed Conflict in Colombia": Dr. Maria Restrepo-Ruiz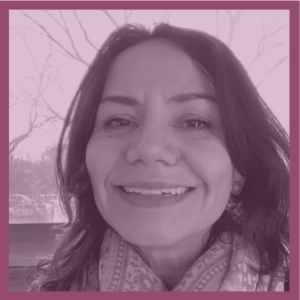 Dr. Maria (Mayte) Restrepo-Ruiz is a Research Associate with the Department of Public Health Sciences at the University of Connecticut. She completed her PhD work in the summer of 2021 titled Armed Conflict, Intimate Partner Violence and Women's Mental Health in Colombia: An Explanatory Mixed-Methods Study.
"Intimate Partner Violence and Armed Conflict in Colombia" explores Dr. Restrepo-Ruiz's research on the direct and indirect effects of the Colombian armed conflict with a focus on how it is associated with women's increased risk of intimate partner violence and mental health problems.
In 2020, Dr. Restrepo received an HFG Dissertation Fellowship (now the HFG Emerging Scholar Award) for her project IPV in Armed Conflict Contexts: The Case of Colombia.
About "Armed Conflict, Intimate Partner Violence and Women's Mental Health in Colombia: An Explanatory Mixed-Methods Study::
Colombia has one of the highest prevalence rates of intimate partner violence (IPV) against women in Latin America. Colombia is also a country that has experienced more than six decades of armed conflict that has led to the largest number of internally displaced people by armed conflict in the world. The purpose of this study was three-fold. First, it measured the armed conflict's direct impact on women's mental health. Second, it assessed the association between armed conflict intensity and intimate partner violence. Third, it compared intimate partner violence prevalence between women who were displaced and who were not displaced by the armed conflict and associated psychological wellbeing outcomes.
All armed actors in the Colombian conflict, government forces, guerrilla groups, and paramilitary armies, mainly used war strategies that intentionally targeted the civilian population. Between 1996 and 2018, 90% of all 252,249 war events documented by the Observatorio de Memoria y Conflicto corresponded to violence against civilians and the remaining 10% corresponded to direct confrontations between armed actors. Among events targeting civilians, 79% corresponded to selective tactics such as selective assassinations, kidnapping, sexual violence, forced recruitment of children, and forced disappearances. These tactics intentionally and selectively targeted individuals and families creating collective fear by attacking one person at a time, which made violence less visible to the public eye. Women represent a significant proportion (30%) of the victims of selective violence.
The findings of this research indicate that the armed conflict in Colombia directly affected the mental health of millions of individuals who are at higher risk from adverse mental health effects than the general Colombian population. A statistically significant association was found between experiencing depression, anxiety and post-traumatic stress symptoms and being a victim of sexual violence by armed groups, having a loved one forcibly disappeared, and witnessing massacres.
Furthermore, findings show that the armed conflict contributes to increased risk for intimate partner violence for women during times of high political violence. When armed conflict-related violence decreases or during post-conflict times, however, high intimate partner violence levels persist. The Colombian armed conflict intensified adherence to traditional gender roles and women's subordinated position in society, which continued even after peace agreements. In addition, by increasing stress levels in intimate relationships, the armed conflict contributed to an elevated risk for intimate partner violence.
Lastly, this study showed that women who have been displaced by the armed conflict are at higher risk of experiencing intimate partner violence while they are also at higher risk experiencing negative outcomes in their psychological wellbeing than non-displaced women. The quantitative and qualitative findings of this study showed that women displaced by the armed conflict in Colombia experience multiple effects on their psychological wellbeing, including decreased self-esteem, distrust of people, and indicators of depression such as sadness and suicidal ideation.