HFG Chair Peter O. Lawson-Johnston Passes Gavel to Longtime Board Member Peter Lawson-Johnston II
June 21, 2023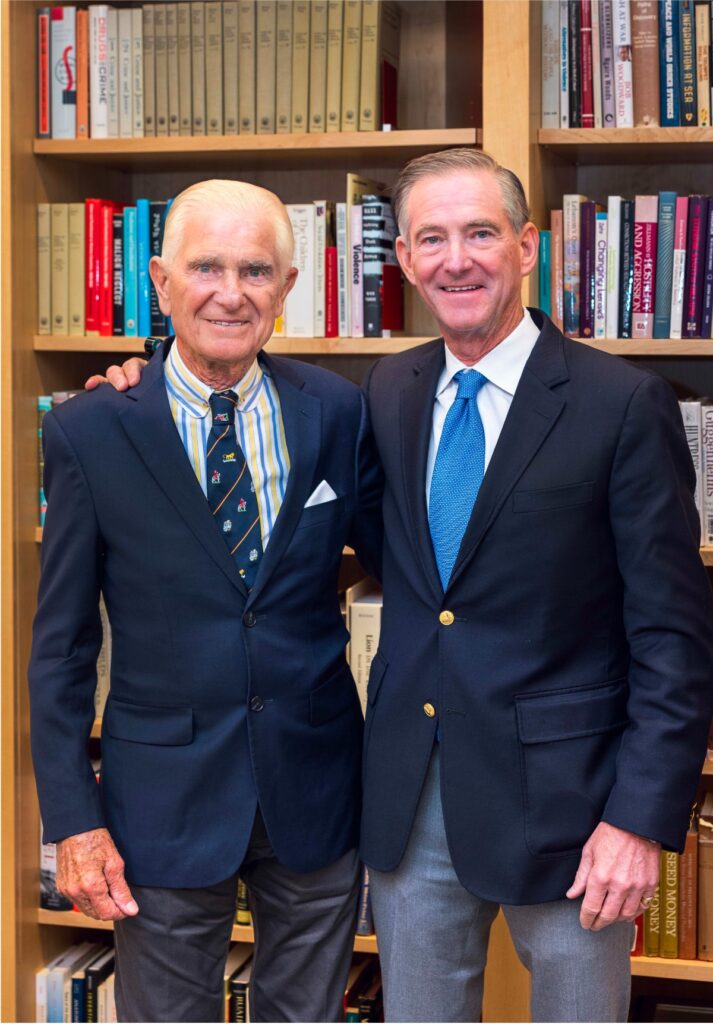 (NEW YORK) — After fifty-two years of leadership, Peter O. Lawson-Johnston is retiring as chair of The Harry Frank Guggenheim Foundation Board of Directors. Lawson-Johnston remains a member of the board and assumes the new title of chair emeritus. The board has elected longtime director Peter Lawson-Johnston II, to succeed him.
Peter O. Lawson-Johnston, former chairman and president of the Solomon R. Guggenheim Foundation and a senior partner at Guggenheim Brothers, joined the HFG board in 1968, becoming chair in 1971. As a confidante of his older cousin Harry Frank Guggenheim, Lawson-Johnston helped shape the mission of the Foundation, which was initially focused on "man's relation to man."
During his long and successful tenure, Lawson-Johnston oversaw the development of HFG from a small, family-led foundation to the preeminent philanthropic organization advancing multidisciplinary research on violence that has funded nearly 1,700 grantees in scores of countries. Under Lawson-Johnston, the Foundation's sponsored research has evolved from studies of human aggression in evolutionary perspective to a focus on contemporary problems of violence, with an extensive portfolio of scholarship on domestic violence, terrorism, insurgencies, civil wars, violent crime in the United States, and organized crime in Latin America. The Foundation has focused both on supporting distinguished scholars and on nurturing researchers in the early stages of their careers, particularly through its African Fellows and Emerging Scholars programs.
"When Harry Guggenheim proposed that I serve on the board, little did I anticipate that I would be at its helm for more than fifty years," Lawson-Johnston said. "I could not have predicted the many extraordinary ways in which the Foundation would advance the knowledge that helps us better understand, and therefore prevent and reduce, the violence that too often plagues our world. I depart my post as chair at a time when the Foundation is ever more involved in work of consequence, both within the academy and beyond."
On June 14, the HFG board elected Peter Lawson-Johnston II, who has served as a director since 1984, as its new chair. Lawson-Johnston II has been deeply enmeshed in the work of the Foundation, serving on the board's executive committee as well as those governing investment, finance, and programs.
Lawson-Johnston II is a managing partner of Guggenheim Partners, the financial services firm, a managing member of Guggenheim Brothers, a director and vice president of the Elgerbar Corporation, and a trustee of the Solomon R. Guggenheim Foundation.
"I am honored to follow my father as chair of The Harry Frank Guggenheim Foundation board," said Lawson-Johnston II. "The Foundation's exemplary team is keenly focused on our singular mission: to better understand and articulate the causes and control of violence through the scholarship and programs we are privileged to support. Building on Peter Lawson-Johnston's robust leadership, I am confident the best and most meaningful days of the Foundation are ahead."
The retirement of HFG's longtime chair and the election of a new board leader was an occasion to reflect on the Foundation, established in 1929 by businessman, diplomat, and newspaper publisher Harry Frank Guggenheim.
"Over a remarkable five decades, Peter Lawson-Johnston has led the Foundation with an unwavering commitment to its mission," said HFG President Daniel F. Wilhelm. "I am confident that our new chair, Peter Lawson-Johnston II, will honor and extend this legacy, ensuring that the Foundation remains relevant and engaged in the important work of understanding and helping to reduce violence in a complex world."
The Harry Frank Guggenheim Foundation is a leader in creating and disseminating knowledge on the nature, consequences, and reduction of violence in its many forms, including war, crime, and human aggression.
For more information contact:
Nyeleti Honwana, Program Officer
info@hfg.org | 646.428.0971